Buqa Philosophy

Bond, Unwind, Quality, All year around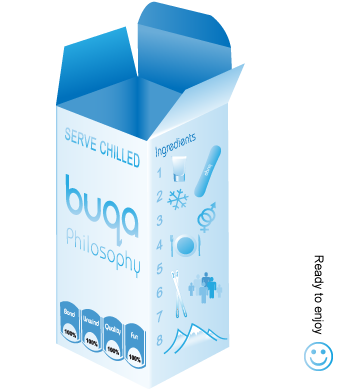 We, at Buqa are strong believers of "Mi Casa es Tu Casa" and we want you to enjoy your stay at Buqa just as much as we do. So we thought it be nice for you to get a brief idea of who we are.
The Buqa Family...
Elan
He is responsible for introducing family and friends to the charms and delights of this all-rounded alpine resort, and opened the rest of us to the extreme world of Snowboarding... (he will also, happily hang out with skiers!) Quoted as saying "I want my ashes scattered at the foot of Mont Blanc" you begin to get a feel for what makes him buzz! Having spent many seasons in different resorts, Elan has been drawn back to this picturesque, understated charm that is Samoens and surrounding Giffre Valley. As a keen Mountain Biker, he is hoping to improve his fitness level and technique by venturing the single tracks of the Valley each Summer.
Piral
Still relatively novice to snowboarding, she fell into the lifestyle after marriage to Elan… and hasn't looked back since. Armed with one bit of vital snow-knowledge ('never eat yellow snow'), she has evolved into a fully-fledged snowboarder. Having just given birth to their beautiful children Nia and Yash, Elan and Piral are both very excited about the prospect of multi-lingual toddlers skiing in nappies! Fortunately, Samoens is the perfect place for the little ones to get started on the slopes and to enjoy family friendly fun...they can't wait!
Akash
An uber-cool snowboarder: edge on board, music in ear and the chilled boarder fashion that only chilled boarders get away with, he took to the sport like duck to water. Obviously, all was achieved under the strict guidance on safety and technique from Elan, his big brother (who takes all the credit to this day!)
Shreeta
Who says chicks can't board? Determined to be as cool as her brothers, Shree took up snowboarding a few years ago and loves the thrill of the sport, as well as enjoying the stunning views that the alps have to offer. For Shree, time away with the family is about having adrenalin filled exhilarating fun in the day, followed by good food in great company, and ending the night with quality chill time in front of the roaring log fire - a game of monopoly with all (or some action on the Wii console)... Perfect!
In a nutshell, we are a family of 3 three generations with varying interests; consisting of parents in their sixties wanting some time to relax, friends in their mid twenties wanting some serious fun and nephews in their teens simply wanting to be very cool. We ultimately share a passion for the outdoors, enjoy quality time with family and friends, we're not shy to indulge in adrenaline-fueled activities and interested in the culture and lifestyle that Europe has to offer.
We've been lucky enough to experience some amazing chalets and wonderful hosts during trips to the French Alps, but the idealists among us would occasionally make comments like "wouldn't it be good if...". From that evolved the Buqa Philosophy: we wanted to build something that would allow us and others to Bond and Unwind with friends and family, in Quality surroundings All year round. And we found that Samoens was just the place.